Products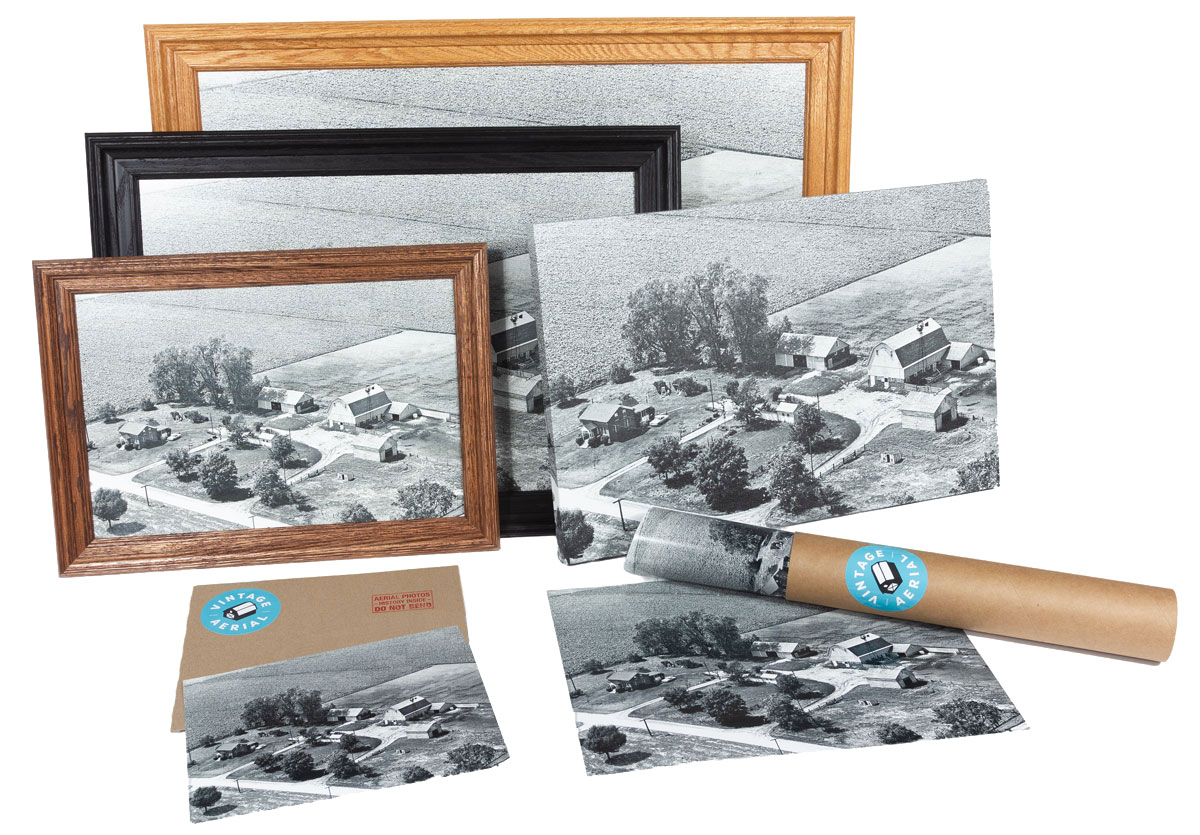 Vintage Aerial creates quality, lasting products that are instant heirlooms the day they arrive. They are a display of our personal heritage and the palette from which the story of our lives is painted. For this reason, we've painstakingly selected exceptional materials that are paired with the beauty of the photographs in our printing and framing process.
| | Framed Print | Canvas Wrap | Photographic Print | Digital File |
| --- | --- | --- | --- | --- |
| Customer Rating | | | | |
| Professional Editing | | | | |
| Price | $179–$299 | $179–$349 | $79, $149 | $179 |
| Shipping | Shipped within 14 business days | Shipped within 7 business days | Shipped within 7 business days | E-mailed within 2 business days |
Satisfaction Guaranteed
Vintage Aerial has helped thousands of customers reconnect with their personal history with our unique aerial photos. If for any reason you're not completely satisfied, let us know and we'll make it right!
It was great to find a picture of my grandparents farm that has been in the family for 79 years.
Nikki from Highland County, OH
The order came a lot faster than I expected. I am excited to have these pictures as they bring back many cherished memories from my childhood.
Stephanie from Columbia County, PA
Photo came and was very beautiful and professionally framed. Thank you.
Dawn from Orleans County, VT
The picture is extremely clear and made a great gift.
Matthew from Butler County, PA
We have wanted an old aerial photo of our farm for some time. Thanks to you sending so many old rolls of film from your inventory I was able to search and find our place. You did a great job of framing it and I was able to give it to my husband for Christmas. It was the best surprise gift I've given him in a long time!
Tina from Allegan County, MI
Was a little skeptical making an order this large without really knowing the quality of the photos. Was pleasantly pleased! The quality was over the top. Appreciate very much how the promotional discount was extended to me when I wasn't even aware of it. Top notch! Will be telling everyone about Vintage Aerial photos. Thanks so much for piecing together history that I couldn't find anywhere else!
James from Livingston County, IL
Gave a visual memory (record) of how my family farm looked when both of my parents were still alive and living on the farm. This picture will show my grandchildren how the farm looked before they were born.
Lacy from Caldwell County, KY
Everything was great fast shipping very good packing
Very quick shipping and wonderful to have to picture!
Leah from Johnson County, MO
Wonderful photos of the family home which show the progression of time. Worth anyone investing in a copy or two!
Kurt from Medina County, OH
Love it all frame picture, noticed different things in picture that we didn't see online. Great gift !
Charles from Piscataquis County, ME
I absolutely loved my pic. I purchased two (one for me and one for my dad for Father's Day). I'm extremely grateful to have a photograph of my grandparents' home. You can even see my grandmother standing in the lane looking over the garden. My grandparents have been gone for decades now and I never thought I'd see their home again. Thank you so much.
Sherri from Martin County, KY
We are very satisfied with our 24x30 black and white enlarged framed photo of the farm where my wife grew up. In fact, that's her walking, bringing up the rear, coming up the driveway, just coming home from school after having been dropped off by the school bus.
Paul from Aroostook County, ME
Helping me recover memories for a new book about growing up in the midwest farm community. Wonderful images and service.
Dennis from De Witt County, IL
My experience with the Vintage Aerial order was wonderful! I was very happy to be able to receive these aerial photos that were sharp and clear images. The cost is reasonable when considering the pictures are from an aerial view not easily taken by the average person. The person I dealt with over the phone was extremely helpful locating the pictures I was looking for! The shipping/delivery was very fast! All positive!!
Ann from Woodbury County, IA
I'm very happy with my purchase and gave the photo as a gift. The recipient was very pleased as well. Thank you for a quality photo and quick shipping.
Jennifer from Somerset County, ME
Great service and shipped quickly!
Susan from Meigs County, OH
Mom was so pleased to see a photo of our home place
Methuria from Sherburne County, MN
I am very happy with the picture and how it turned out by doing the Canvas Wrap. It is easy to handle and I wanted something different and back then everything was in black and white. So I trimmed the outer edge of canvas with black looks very nice. My elderly mother (who still lives on the home farmstead) loves the picture!!! We wanted something of way back of how my dad farmed and the home place on how it looked back then and we found it in this picture. Most all of the buildings are all gone now and very little left so really happy with this picture. So thank you very much!!!!
Ramona from Waseca County, MN
Thank you for making these photos available for owners to have. The quality of the picture and frames are beautiful. Will enjoy passing this on to future family members.
Lou from Hancock County, IL
The 8x12 Cherry Oak is absolutely beautiful! Amazing customer service & the print is great quality! Solid frame with "certificate" on back! I'm SO happy with how this purchase turned out!! Thank you!
Melissa from Jefferson County, WI
This picture was from a decade where we had no pictures of the farm. We have them from the 50's, 70's, now 80's, 90's, and a few from 2000 to date. This one shows things not in any of the others, it's great.
Susan from Northumberland County, PA
This photo is of a farm my family and I grew up on. My husband bought me one which has given me so much joy. Now my niece is giving one to my brother so he can also remember the way it was shortly after we moved there. Everything is gone but the barn now. But our memories will live forever.
Helen from Kane County, IL
I received my order in a timely manner. The photo is good quality.
William from Delaware County, IA
The quality of the photo was outstanding and I would highly recommend this site to others who are interested in vintage photos of farms throughout the Midwest.
Jamie from McDonough County, IL
Truly awesome pictures. So glad I bought two from different years. Very pleased.
Jodi from Shiawassee County, MI
I ordered this for my mom for Christmas. I was very pleased with the quality of the photo. I had it framed, it looks beautiful, and I think my mom will love it.
Patricia from Washington County, KY
Fabulous customer service. Had a slight issue with my picture but Vintage Aerial fixed it immediately. They went about and beyond my expectations. I absolutely love my picture. If you have any sentimental value towards any of the pictures, I would highly recommend buying one. You will not be disappointed and the memories will last a life time. Thank you Vintage Aerial!
Rebecca from Sanilac County, MI
Thank you for the quality service. My father was extremely pleased and almost in tears when I gifted it to him for father's day.
Jude from Rock County, WI
Delivery was incredibly fast and the quality of the pictures: perfect. I have already recommended Vintage Aerial to friends in my community so they can look up the visual history of their property. I even found my grandparents' homestead location which is several hours from where I live. I am patiently awaiting the downloading of other areas of the country so I can add it to my historical files.
Carolyn from Scott County, MN
The picture is beautiful and shipment was so much faster than I expected. I love it!!
Susan from Carroll County, MD
I am so happy to have this picture! So much of my families history took place here, in the 50+ years that my Grandparents, Aunts & Uncles lived here!
Marcus from Breathitt County, KY
Loved the canvas print and so did my sister who I gave one too as well.
Marlys from Yellow Medicine County, MN
I was very happy to find this site. I'm very pleased with the order that I'm going to order more prints of our farm house.
Phyllis from Northumberland County, PA
Ordering was very easy. The hard part was waiting for them to arrive. Order tracking is provided so you can follow the progress. These are great family memories, sadly some of the people involved are not with us any more. We never took time to take pictures to preserve our history. we were to busy working and would do it someday. Now I have Family memories preserved for all to see.
David from Somerset County, PA
Awesome quality photo for printing. I printed 2 8x10 pictures and they are amazing. Gave one to my daughter for her new house and she was thrilled, as this is her grandparents home and she has many fond memories of times spent there throughout her childhood.
Kathryn from Black Hawk County, IA
I was very pleased and happy to be able to go back in time to see this picture as the way it was in the beginning when we moved here. I never thought these memories could ever be seen again.
Hubert from Pike County, IL
Was extremely pleased with not only the product itself but the quickness with which we received it. Thanks VA!!
Brad from Oakland County, MI
Very happy with my order! The pictures are edited beautifully! Thank you for such awesome work!
Lisa from Seneca County, OH
My husband was very happy with his gift of our home.
Lori from Sullivan County, IN
This site is awesome! I'm on here almost everyday. This site is memory lane on steroids. I tell everyone about this site and try and help them locate a photo of their area. Thanks for sharing this amazing site. Priceless!
Customer from Boone County, WV
I was very pleased with my print and my dad loved seeing the farm before the years took a toll on it!!
Lori from Douglas County, NE
We really appreciate the quality photos you sent us, and great customer service. Thank You!
Charles from Platte County, MO
I looked a long time for photos of the farm I grew up on. This aerial photo brings back a ton of great memories. The farm's long gone but this picture keeps those memories alive.
Bruce from Rice County, MN
We were very pleased to find an actual historical photo of our property. It was very simple to place an order for a file and photo. The photo came mounted securely in a nice frame, and the time from placing the order, until we received it, was very short.
Clyde from Greene County, IN
Order was shipped promptly and we are very satisfied with the results
James from Boone County, IN
We are super pleased with the two photos of our first home in Ohio. This is an incredible opportunity to add to our family story something as precious as this. Thank you! Our current home here in Florida is in your library of photos so we will be ordering this photo also. Unfortunately, I'm unable to find our second home in Pennsylvania but will keep looking. Many thanks again!
Lise from Fairfield County, OH
I'm thrilled to have this photo of my place. It was taken 34 years ago. Amazing how much has changed.
John from Montgomery County, MO
Very high quality, sharp prints. Recommend highly!
Douglas from Johnson County, IA
It was so thrilling to get a copy of this picture. It means a great deal to me and the quality is amazing. I could not be more happy.
Rhoda from Orleans County, VT
Fast and easy to order photos! I found my childhood home which no longer exists!
Kurt from Medina County, OH
I stumbled on the Vintage Aerial website by accident, and it is FABULOUS! I was amazed to find my home, and then spent hours locating many of my neighbor's farms. I also located many farms near my childhood home hundreds of miles away! The photo we purchased is high quality, and arrived in just days! Totally fun!
June from Northampton County, PA
Appreciate the prepurchase phone help and effort to distribute these images to the 21st Century before first person memories expire. Our youngest son shed some tears at his fortieth birthday when he opened his print and I told him the person in the picture is his Grandmother.
Richard from Kandiyohi County, MN
The whole order process was awesome. All of my questions were answered and product was shipped quickly. I would recommend this to anyone.
Mark from Williamson County, IL
I absolutely love the photos I have gotten. Four in total, but I am hoping to find one more place if I can get an old address!
Tracey from LaSalle County, IL
I have a BA in Photography and was so thrilled with the quality of the print I received. Thank you for offering this opportunity to purchase a photo from 50 years ago. We have several aerial photos of the farm throughout the years, but this is the only one that my father did not have a print of. This is the home they have lived in for almost 60 years, so it is very special to them. At first, I thought the purchase price was a little expensive, but after seeing my father's reaction to the image, it is priceless!
Melanie from Pike County, IL
Very helpful and I even messed up my order!! It was amazing and punctual.
Christopher from Juniata County, PA
It was fantastic to see my parents house from 1971! The picture is beautiful and the frame was amazing. Thanks for having this photo to purchase. My Dad passed away in 2017. He would have loved this!
Bonnie from Randolph County, IN
Thanks - it was remarkable to find an aerial shot of our farm from forty years ago. It's framed and hanging in the house. It's a great conversation piece.
Scott from Oceana County, MI
Very nice to see the farm back then.
Kathy from Piatt County, IL
I was extremely pleased with my purchase of these two prints. I was speech less when I found them online and so many memories came flooding back from days I spent on the farm. Thank you!
Diane from Henry County, IA
It's so wonderful to have this keepsake from our childhood. Both farms places no longer exist. All the buildings are gone so it'€™s wonderful to have this keepsake.
Pamela from Renville County, MN
The quality of this order exceeded my expectations!! Beautiful photo! I will definitely be ordering again.
Wittney from Magoffin County, KY
No one can put a price on memories. This is the one and only photo I have of my grandparents farm. They passed long ago as have all of these buildings. I do remember being there as a child and can identify with a simpler rural life.
Linda from Monroe County, MI
The print is extremely clear.
Matt from Butler County, PA
This photo was a Mother's Day present to my wife's mother. She loved it, and all her children have requested prints. We chose the digital file with access to unlimited reprints. Service was quick, the file is high quality, and the Vintage Aerial rep with whom I spoke was very helpful and pleasant to deal with.
Tom from Halifax County, VA
The pictures came fast and in excellent shape. They will be treasured by my family and myself. Thank you for the fast shipping.
Robin from Centre County, PA
I was so thrilled to find a photo of my childhood home. It burned down when I was 8. No surviving photos from here. Although I wish there was a better view of the house, I am happy. Thank you!
Carolyn from Cass County, IN
Pictures were very sharp and clear. These are going into a pictorial history book of my family.
Marlys from Kossuth County, IA
Very cool to see what my house looked like almost 40 years ago. Nice Print!
Matthew from Kalamazoo County, MI
The order came within the expected time. It arrived in great shape and was ready to hang on the wall. Good quality. We are very happy with it!
Kathy from Berrien County, MI
Excellent quality photo. One I will treasure.
Edward from Cayuga County, NY
The print quality was quite good. The proof print has been passed on to my nephew and I have ordered an enhanced print which I will frame with wood from the barn.
Duayne from Des Moines County, IA
I ordered an 8X12 photographic print and was pleasantly surprised to see it was even clearer than the online image. Very satisfied.
Carol from Beaver County, PA
This is a wonderful company to work with, great customer service and helpful, friendly people. The pictures are exquisite, I have ordered several and have another one in my plan to get next. The pictures are beautifully retouched to add depth and detail. I order the frames in black, as the photos are black and white and the black frame sets them off beautifully.
Kaye from Palo Alto County, IA
Love all the pictures of our grain bins and old home place over the years! Great job!
Karen from Boone County, IN
Our friends loved this pic of their property from "back when". A few years ago, we also got one of our farmhouse taken many years ago. We have it framed along with two others that people gave us.
Margery from Somerset County, PA
This is one of several orders that we've placed over the past few years with Vintage Aerial. We've purchased photos of my wife's family farm, the first acreage I purchased, photos of our current acreage, and now my grandparents farm. It's awesome to be able to track down history, especially with so many farmsteads disappearing. Having a picture to go with our memories is priceless - especially when sharing with our kids! Thanks for preserving the memories...
Joan from Wright County, IA
Very pleased with the picture. Just what it looked like back then. Thanks
Marilyn from Adams County, IL
The digital file arrived very fast, within hours of ordering.
Ginna from Barren County, KY
The print is a surprise gift for my boyfriend. When I used a magnifying glass, he is actually walking away from the barn in the picture except he's 10 years old. It's like a time machine. He will be 50 in October.
Lorri from Columbia County, WI
Great shopping experience with Vintage Aerial. The print I ordered is on very nice quality paper, and arrived in a timely manner.
Lori from Cass County, IN
What a great service! My mother was commenting on the fact that when this picture was taken in 1974, she purchased a copy, but was sent a picture of the neighbors house instead. After a few attempts to remedy the situation she gave up. She was so happy to see it. Thank you.
Max from White County, IN
Had a small issue with my order and customer service was amazing. They resolved it right away and followed through to make sure I was happy and the order arrived on time!
Jardon from Cass County, IN
Really a excellent experience, from beginning to end. When I showed my brother this picture he immediately said "order me one".
James from Livingston County, IL
It was interesting that from your list of images, I was able to find an old photo of the house I now own. In both of the years I looked at, based on your search engine, I was able to find a photo in the first roll I looked at. It was interesting to see what things looked like years ago.
Robert from Northampton County, PA
Gorgeous editing, high quality print, packaged well. Thank you! I've already recommended you to a friend!
Cullen from Orange County, NC
I will be a repeat customer. Quality and historical don't always come together. In this case; I couldn't be happier.
Thomas from Williamson County, IL
Very pleased to get this picture that shows the home place as it was in 1966.
Debby from Piatt County, IL
It was easy to order what I wanted and the order was received quickly. With the black border, it looks amazing!
Deborah from Lake County, IN
We actually are happy with the purchase. It brings back many memories of how our place looked years back. Thanks so much!
Shirley from Benton County, IA
It is always easy to find what I am looking for and move about your site. Shipment is quick and always comes well packaged. Thank you
Kathi from Ottawa County, OH
I really liked the photos. Have been harvesting, so have not got them framed yet. They are terrific and bring back a lot of nice memories.
Leroy from Bureau County, IL
The 12x18 photo is very clear and focused and was shipped quickly. It's now being framed to go on a photo wall gallery with several other VA photos of other properties I have lived on at some point.
Rita from Orange County, IN
Such a great documentation of my ancestry to have as a family treasure. Thank you
Mary from Le Sueur County, MN
Great high-def file for this photograph. We blew it up to a 20" by 30" matte print and it was still very high quality. My dad was very happy with the product!
Richard from Waseca County, MN
Gift to my best friend where he grew up and later raised his family and now he owns and farms it!
Linda from Watonwan County, MN
I love my aerial photo. The quality is fantastic. It has brought back so many memories.thank you.
Ramona from Ingham County, MI
Framed Print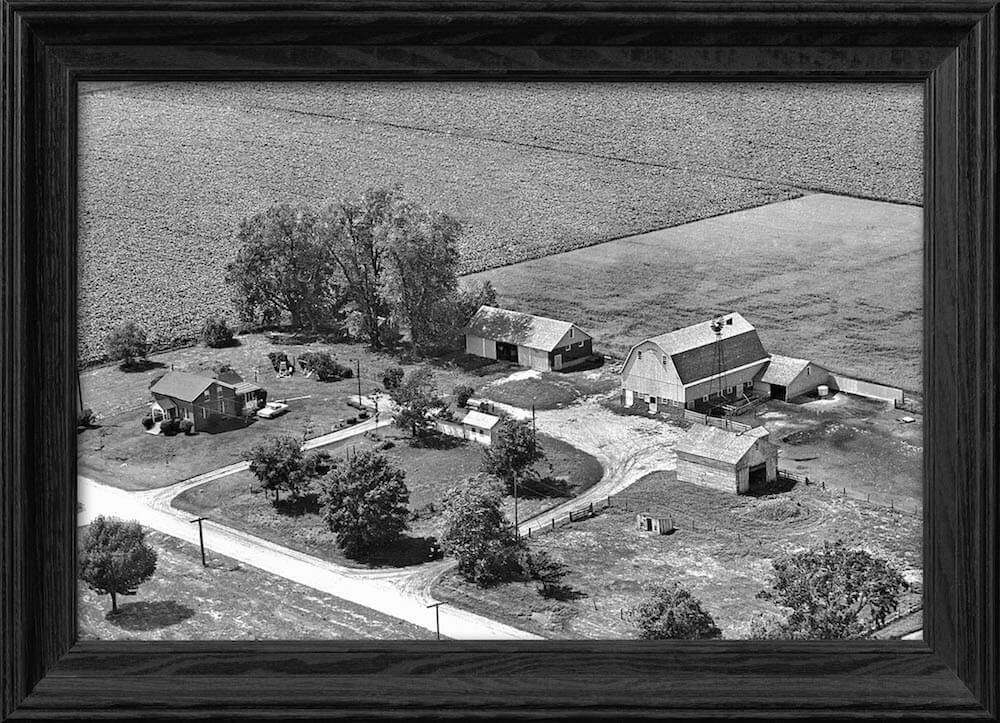 Black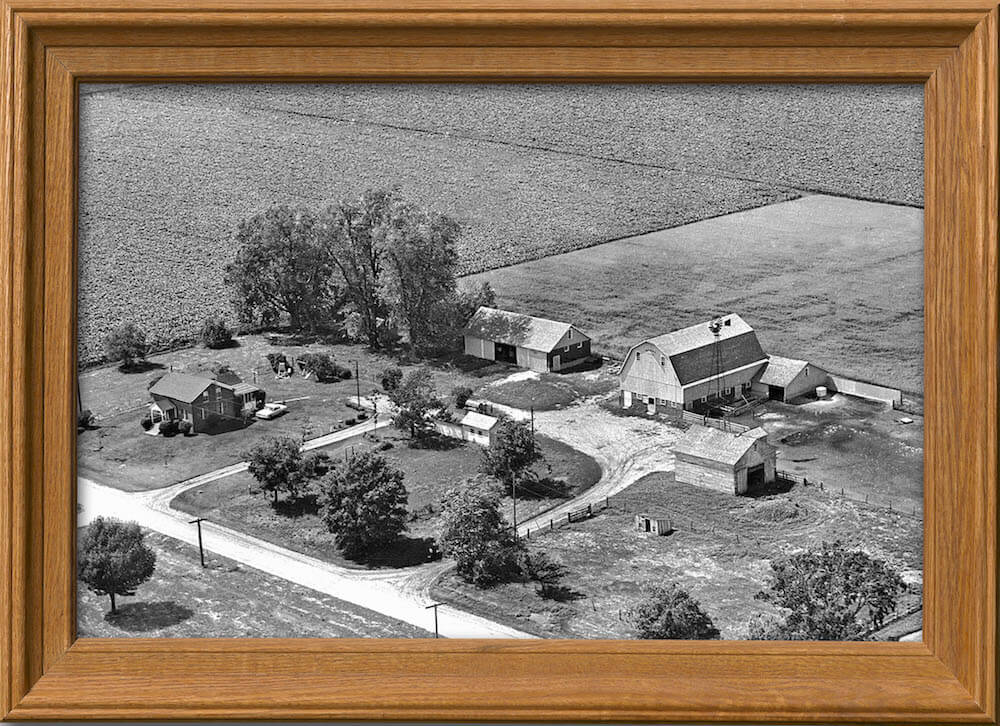 Light Oak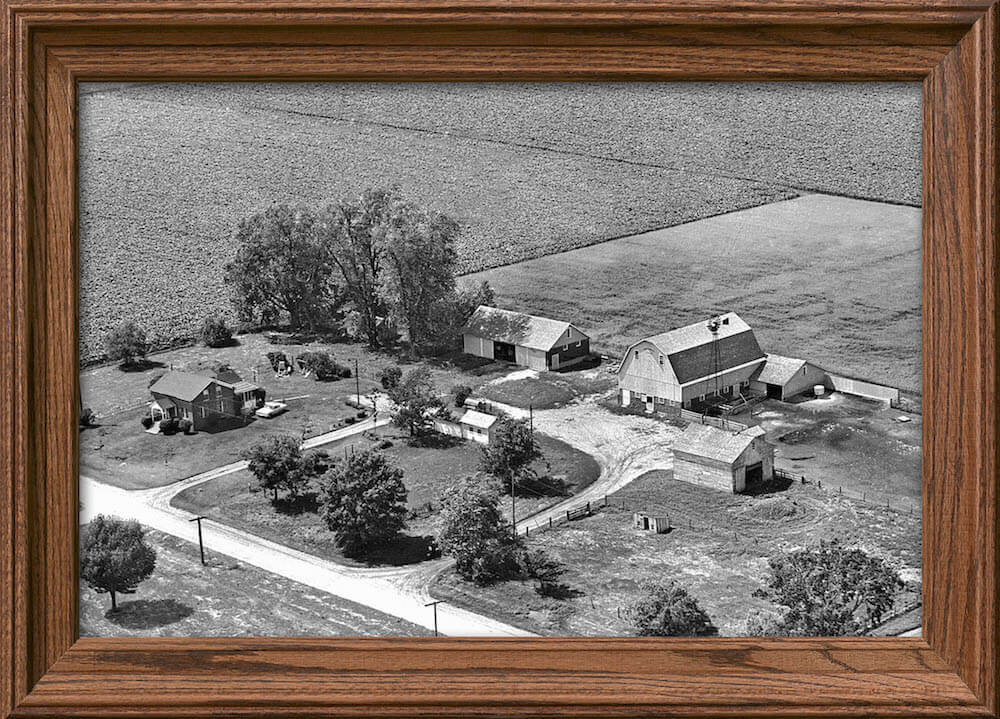 Cherry Oak
Our oak frames are expertly crafted in Michigan and make for a striking final display of your photograph. For these products, we use a unique, state-of-the art printing technology to create an archival quality enlargement. The photo is printed directly on a 100% natural wood fiber board that provides extraordinary resilience to dust, humidity, and light. Because of this special printing method, glass is not used in the framing process because it is unnecessary to protect the print.
Canvas Wrap
Our Canvas Wraps are genuine artist canvas, with 1-1/4" depth that come ready to hang and will make your photo stand out in any room. Choose to wrap the photo for a 3D look or bring the edges of the photo into full-view with a White or Black border.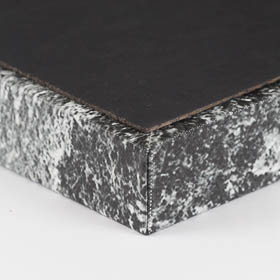 Finished Back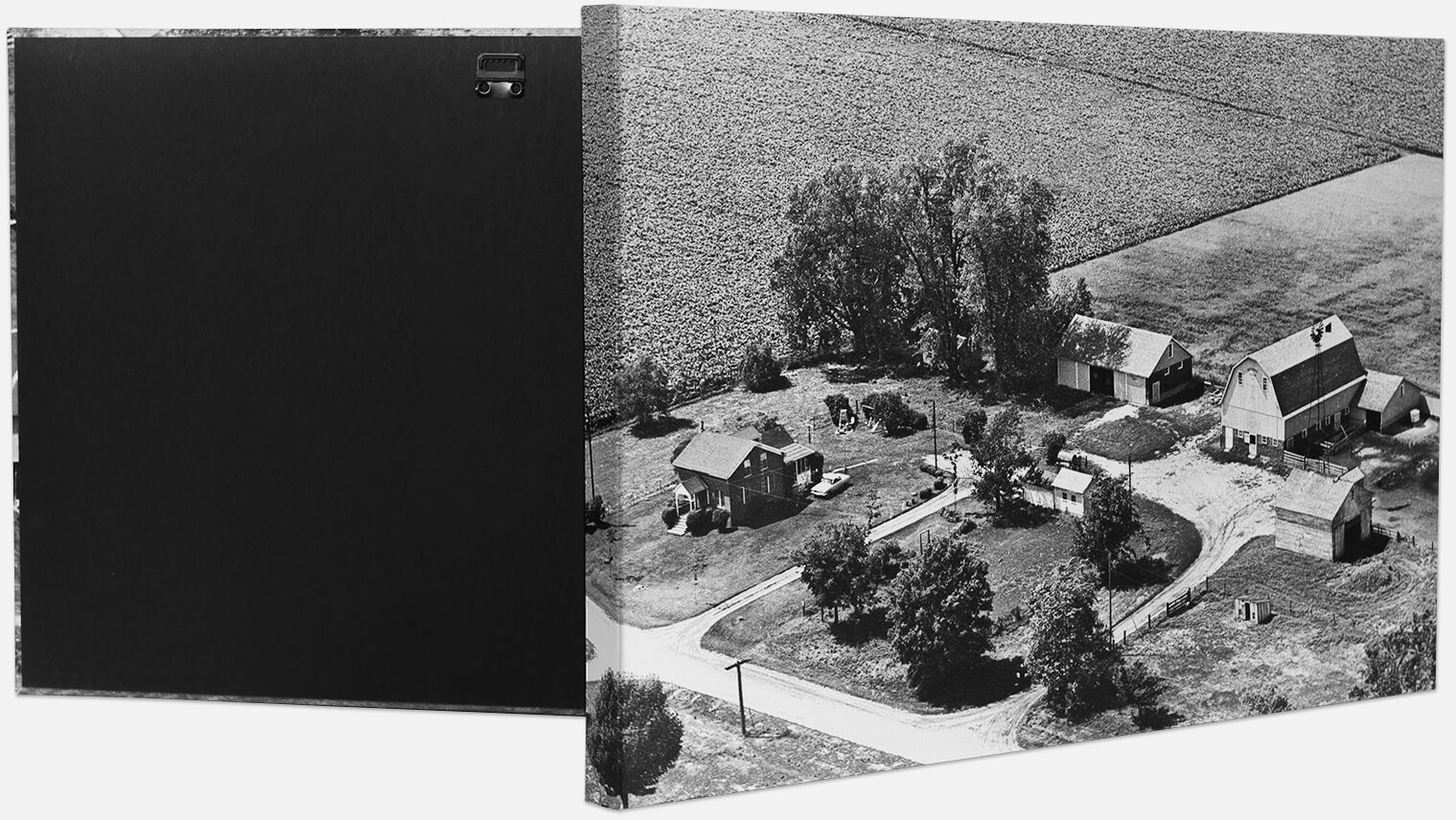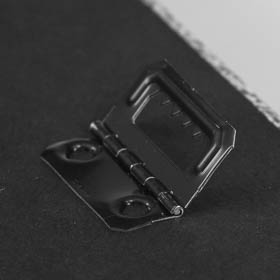 Ready to Hang
Canvas Wrap
Our Canvas Wraps are genuine artist canvas, with 1-1/4" depth that come ready to hang and will make your photo stand out in any room. Choose to wrap the photo for a 3D look or see more of the photo up front with a White or Black border.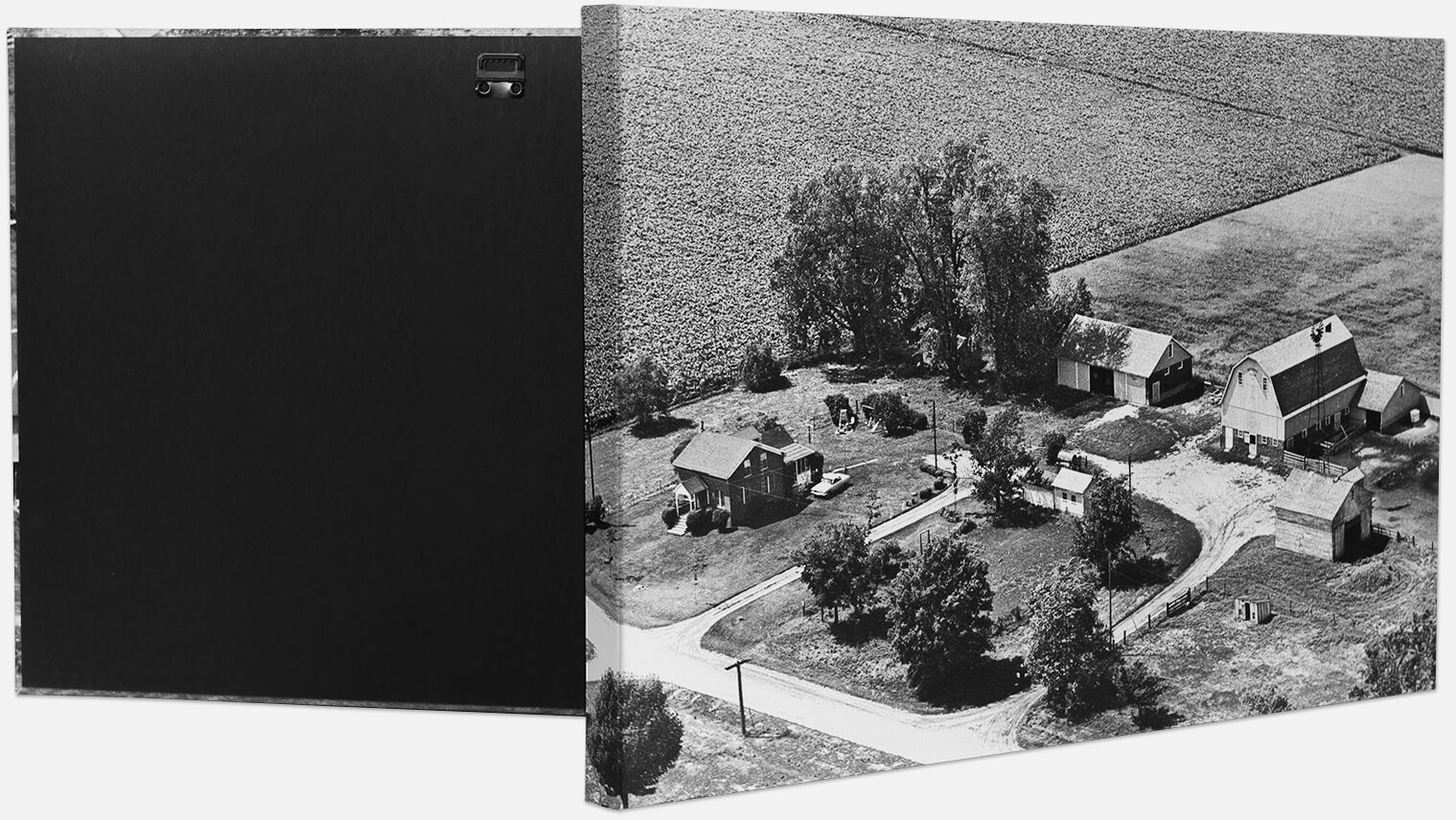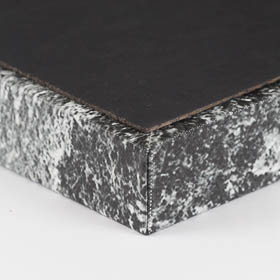 Finished Back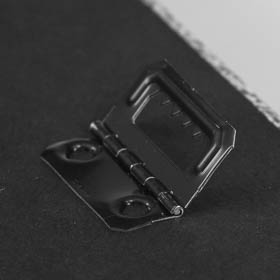 Ready to Hang
Photographic Print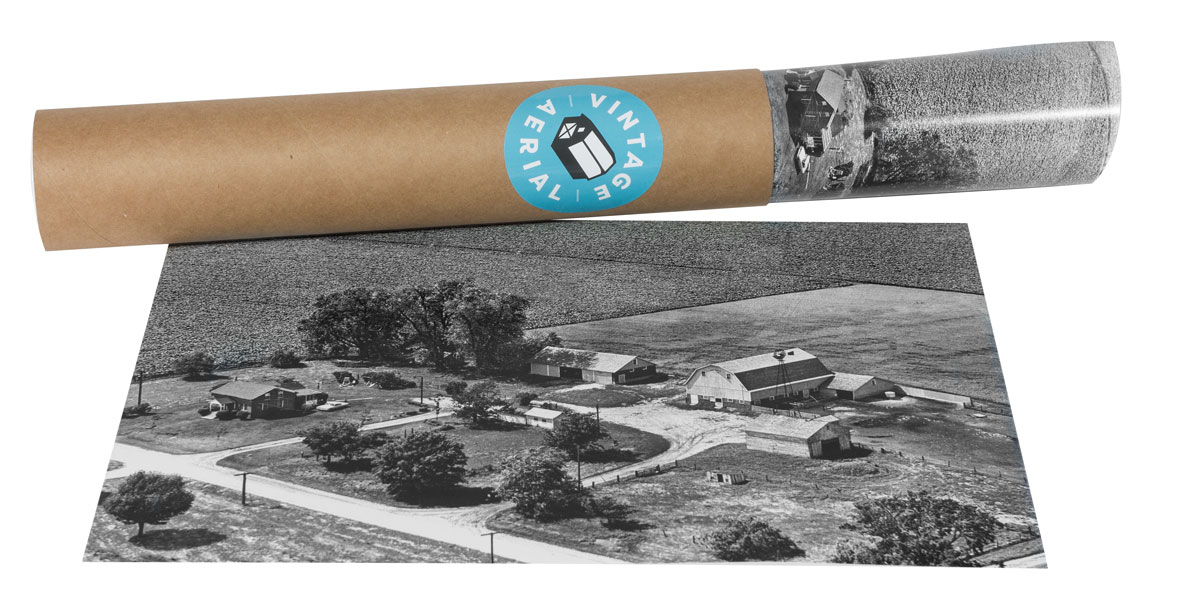 Photographic Prints are great options for do-it-yourself framing or scrapbooks. They are printed on long-lasting, professional-quality photographic paper and are available in 8×12" and 12×18" sizes.
Digital File
Digital Files are a versatile option for those who would like to print their own, use in craft projects, archive their photo, and much more! Digital File orders come with a personal-use reproduction license that allows you to print as many copies as you'd like on your own.
JPEG and Lossless TIFF (Technical Specifications)
Delivered via email within 2 business days
Personal-use reproduction rights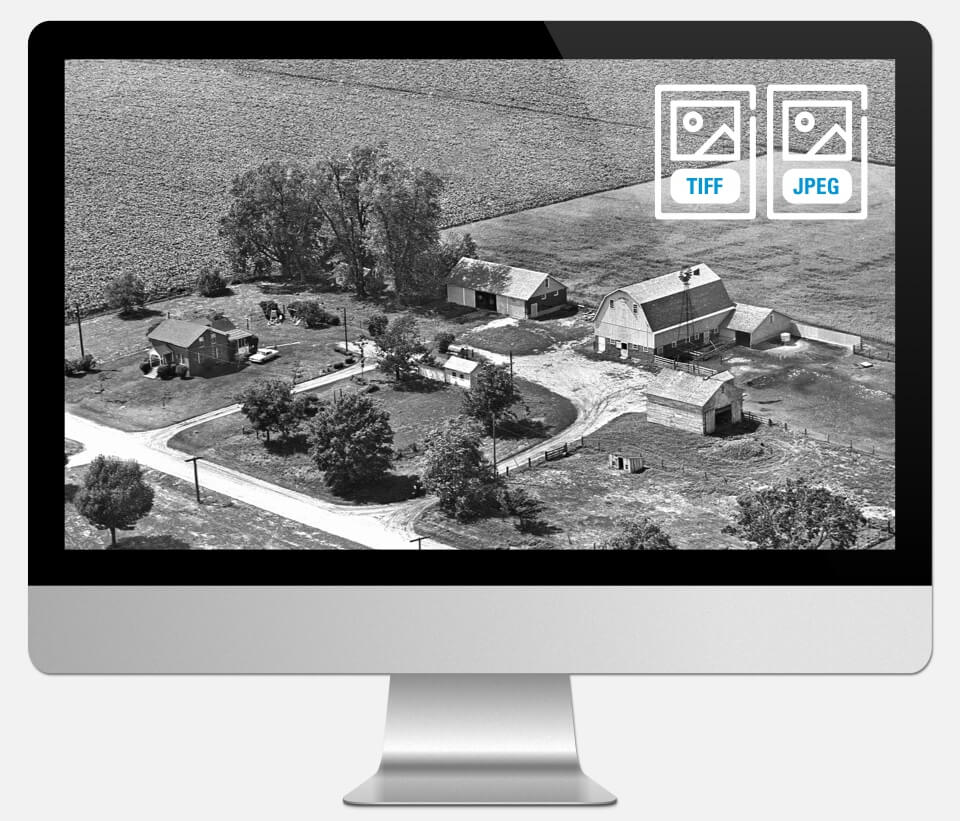 Professional Editing
After purchase, our high-resolution scans are professionally edited to bring out the natural beauty of each photo without disturbing its historical integrity: dust and scratches are removed, sharpening is applied, tonal curves are adjusted, and the image is rotated and cropped to fit perfectly.