Products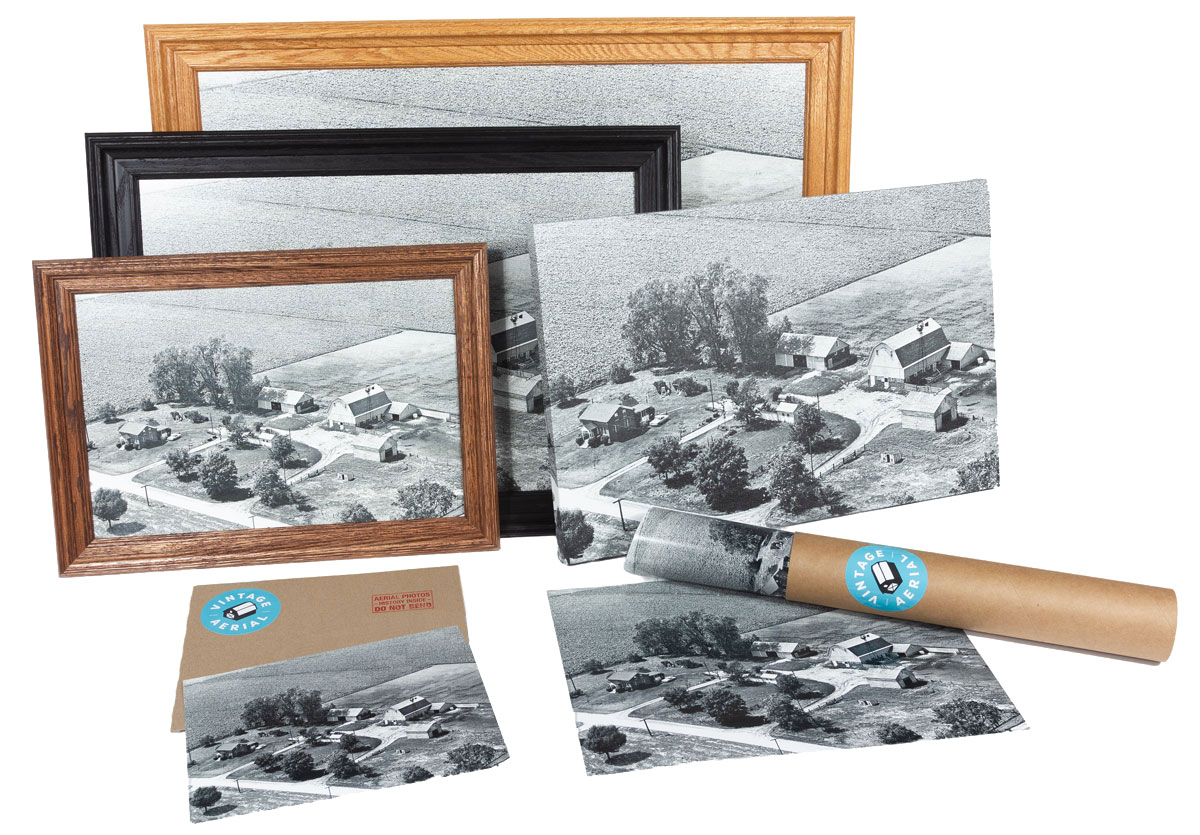 Vintage Aerial creates quality, lasting products that are instant heirlooms the day they arrive. They are a display of our personal heritage and the palette from which the story of our lives is painted. For this reason, we've painstakingly selected exceptional materials that are paired with the beauty of the photographs in our printing and framing process.
| | Framed Print | Canvas Wrap | Photographic Print | Digital File |
| --- | --- | --- | --- | --- |
| Customer Rating | | | | |
| Professional Editing | | | | |
| Price | $179–$299 | $179–$349 | $79, $149 | $179 |
| Shipping | Shipped within 14 business days | Shipped within 7 business days | Shipped within 7 business days | E-mailed within 2 business days |
Satisfaction Guaranteed
Vintage Aerial has helped thousands of customers reconnect with their personal history with our unique aerial photos. If for any reason you're not completely satisfied, let us know and we'll make it right!
Helping me recover memories for a new book about growing up in the midwest farm community. Wonderful images and service.
Dennis from De Witt County, IL
It is always easy to find what I am looking for and move about your site. Shipment is quick and always comes well packaged. Thank you
Kathi from Ottawa County, OH
The 12x18 photo is very clear and focused and was shipped quickly. It's now being framed to go on a photo wall gallery with several other VA photos of other properties I have lived on at some point.
Rita from Orange County, IN
This is a wonderful company to work with, great customer service and helpful, friendly people. The pictures are exquisite, I have ordered several and have another one in my plan to get next. The pictures are beautifully retouched to add depth and detail. I order the frames in black, as the photos are black and white and the black frame sets them off beautifully.
Kaye from Palo Alto County, IA
Loved the canvas print and so did my sister who I gave one too as well.
Marlys from Yellow Medicine County, MN
Very quick shipping and wonderful to have to picture!
Leah from Johnson County, MO
I ordered an 8X12 photographic print and was pleasantly surprised to see it was even clearer than the online image. Very satisfied.
Carol from Beaver County, PA
It was fantastic to see my parents house from 1971! The picture is beautiful and the frame was amazing. Thanks for having this photo to purchase. My Dad passed away in 2017. He would have loved this!
Bonnie from Randolph County, IN
I looked a long time for photos of the farm I grew up on. This aerial photo brings back a ton of great memories. The farm's long gone but this picture keeps those memories alive.
Bruce from Rice County, MN
My experience with the Vintage Aerial order was wonderful! I was very happy to be able to receive these aerial photos that were sharp and clear images. The cost is reasonable when considering the pictures are from an aerial view not easily taken by the average person. The person I dealt with over the phone was extremely helpful locating the pictures I was looking for! The shipping/delivery was very fast! All positive!!
Ann from Woodbury County, IA
It was great to find a picture of my grandparents farm that has been in the family for 79 years.
Nikki from Highland County, OH
Mom was so pleased to see a photo of our home place
Methuria from Sherburne County, MN
Very helpful and I even messed up my order!! It was amazing and punctual.
Christopher from Juniata County, PA
The whole order process was awesome. All of my questions were answered and product was shipped quickly. I would recommend this to anyone.
Mark from Williamson County, IL
Appreciate the prepurchase phone help and effort to distribute these images to the 21st Century before first person memories expire. Our youngest son shed some tears at his fortieth birthday when he opened his print and I told him the person in the picture is his Grandmother.
Richard from Kandiyohi County, MN
Great service and shipped quickly!
Susan from Meigs County, OH
Thank you for making these photos available for owners to have. The quality of the picture and frames are beautiful. Will enjoy passing this on to future family members.
Lou from Hancock County, IL
We were very pleased to find an actual historical photo of our property. It was very simple to place an order for a file and photo. The photo came mounted securely in a nice frame, and the time from placing the order, until we received it, was very short.
Clyde from Greene County, IN
This photo was a Mother's Day present to my wife's mother. She loved it, and all her children have requested prints. We chose the digital file with access to unlimited reprints. Service was quick, the file is high quality, and the Vintage Aerial rep with whom I spoke was very helpful and pleasant to deal with.
Tom from Halifax County, VA
The print is extremely clear.
Matt from Butler County, PA
Framed Print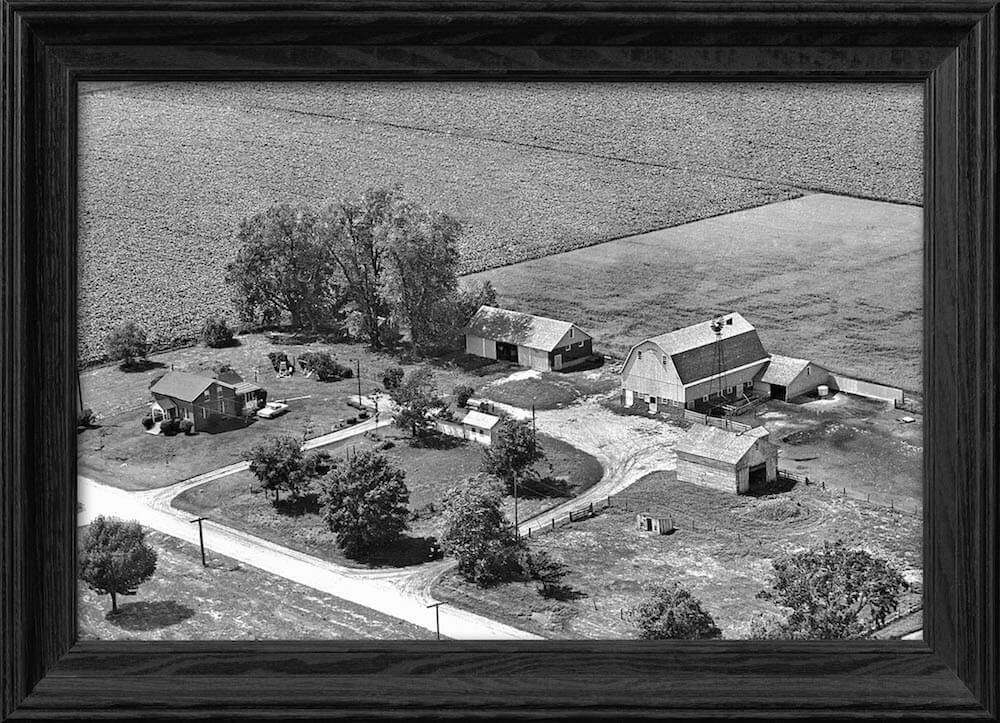 Black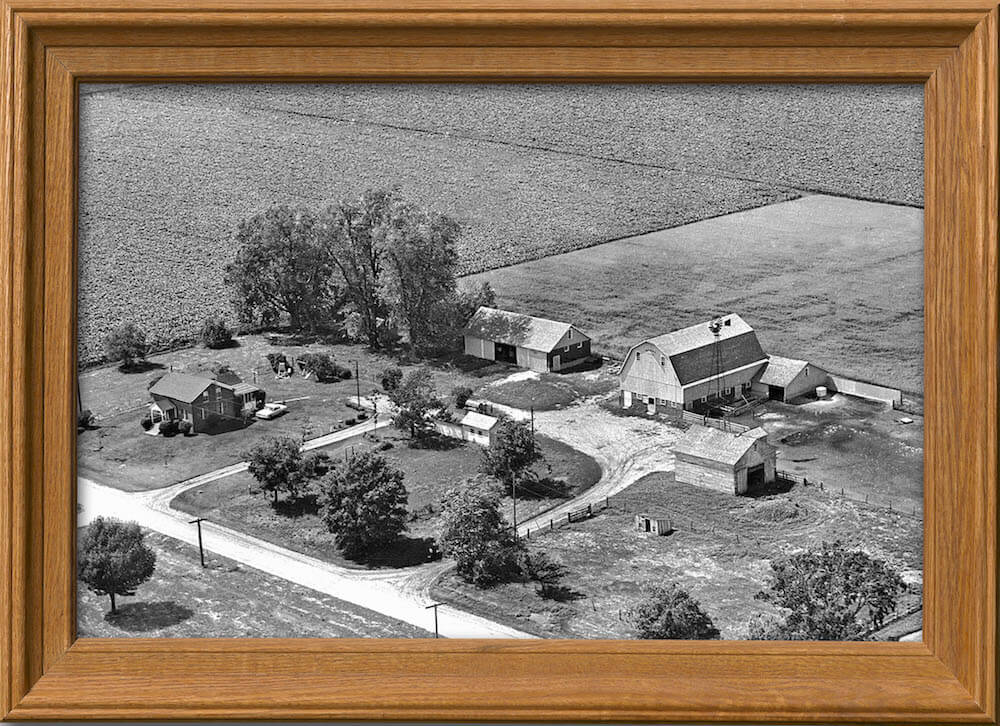 Light Oak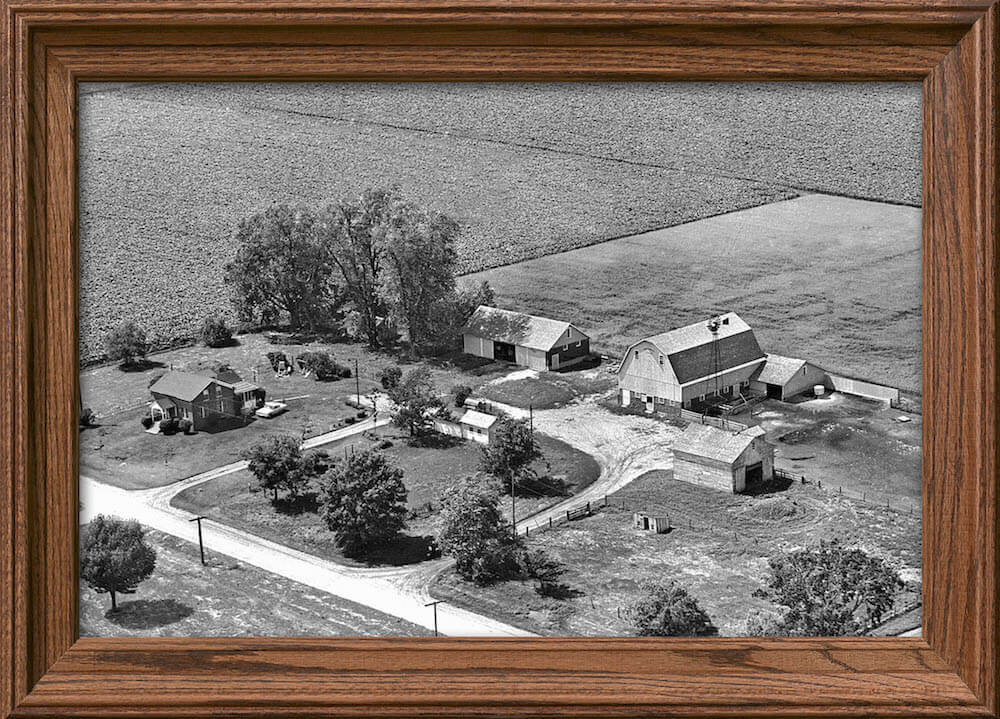 Cherry Oak
Our oak frames are expertly crafted in Michigan and make for a striking final display of your photograph. For these products, we use a unique, state-of-the art printing technology to create an archival quality enlargement. The photo is printed directly on a 100% natural wood fiber board that provides extraordinary resilience to dust, humidity, and light. Because of this special printing method, glass is not used in the framing process because it is unnecessary to protect the print.
Canvas Wrap
Our Canvas Wraps are genuine artist canvas, with 1-1/4" depth that come ready to hang and will make your photo stand out in any room. Choose to wrap the photo for a 3D look or bring the edges of the photo into full-view with a White or Black border.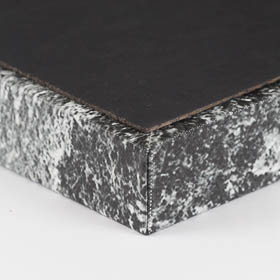 Finished Back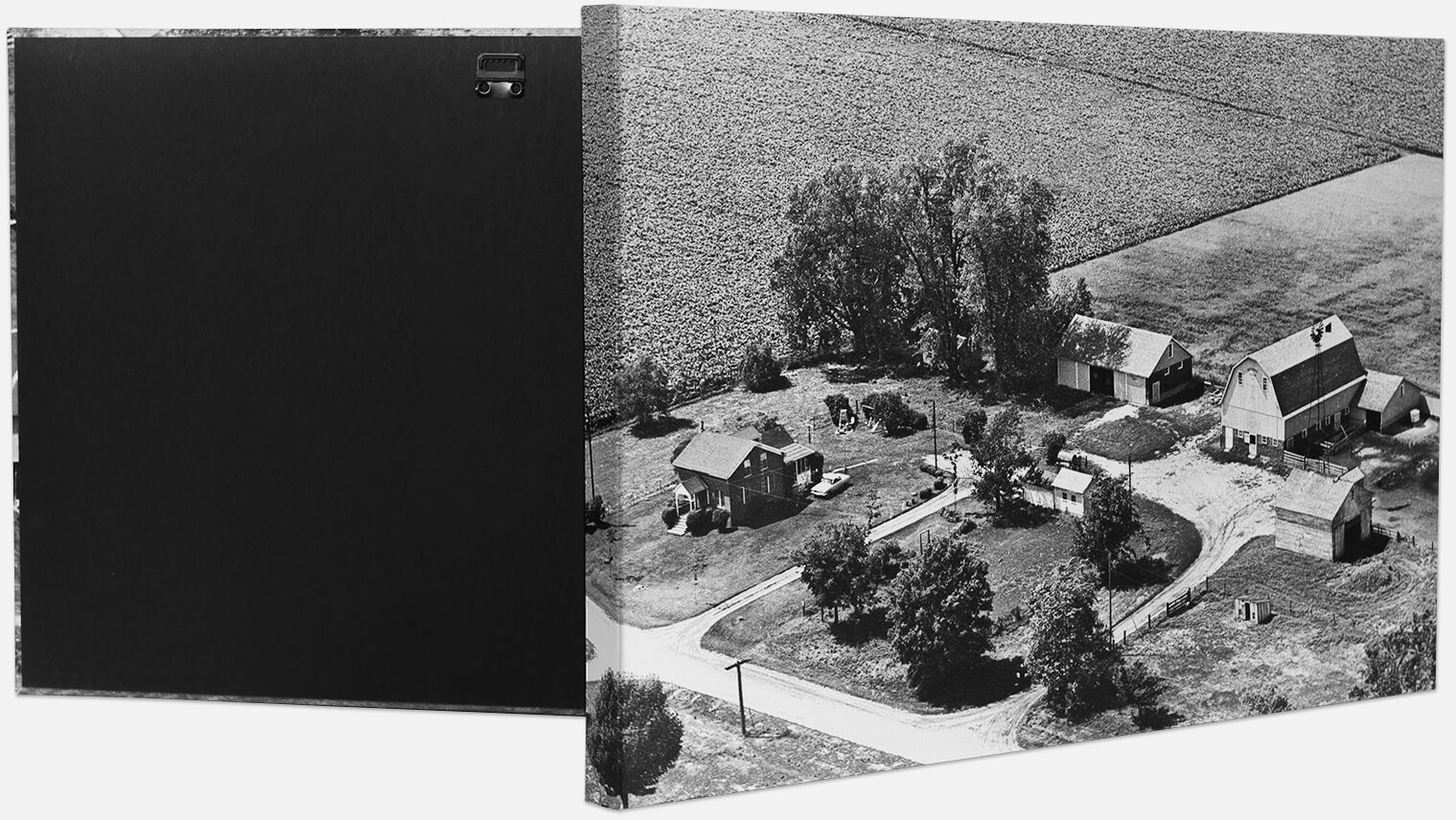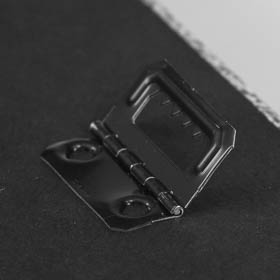 Ready to Hang
Canvas Wrap
Our Canvas Wraps are genuine artist canvas, with 1-1/4" depth that come ready to hang and will make your photo stand out in any room. Choose to wrap the photo for a 3D look or see more of the photo up front with a White or Black border.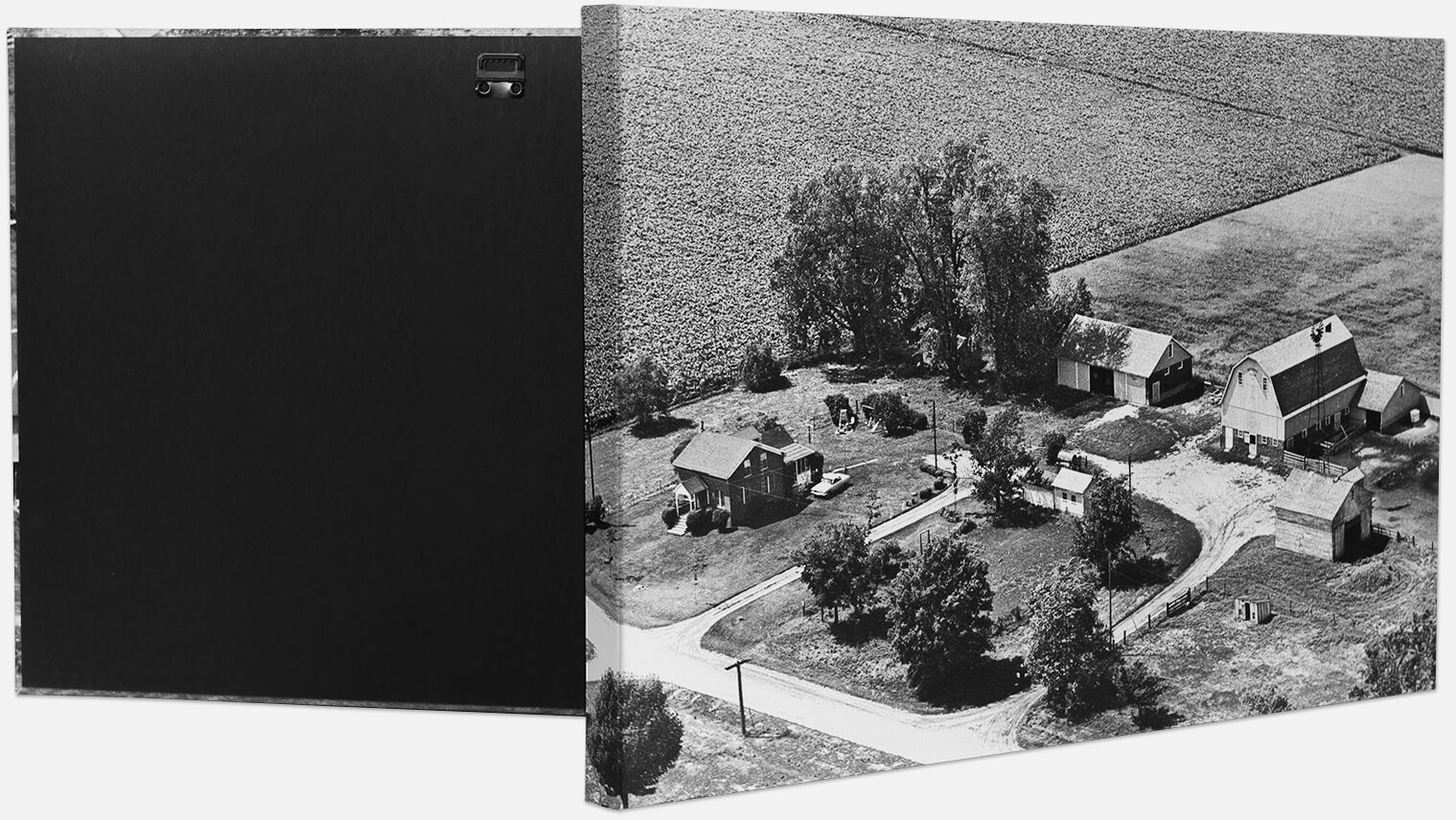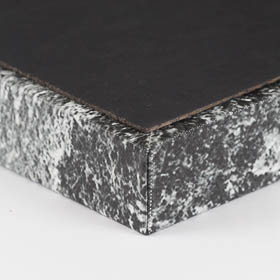 Finished Back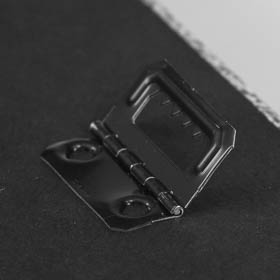 Ready to Hang
Photographic Print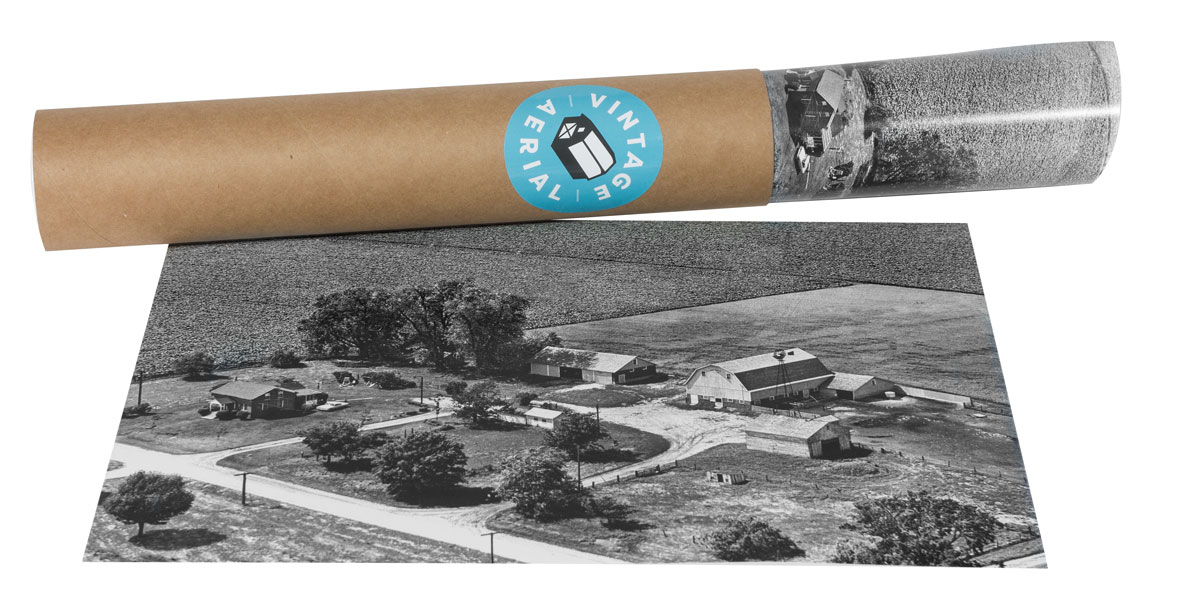 Photographic Prints are great options for do-it-yourself framing or scrapbooks. They are printed on long-lasting, professional-quality photographic paper and are available in 8×12" and 12×18" sizes.
Digital File
Digital Files are a versatile option for those who would like to print their own, use in craft projects, archive their photo, and much more! Digital File orders come with a personal-use reproduction license that allows you to print as many copies as you'd like on your own.
JPEG and Lossless TIFF (Technical Specifications)
Delivered via email within 2 business days
Personal-use reproduction rights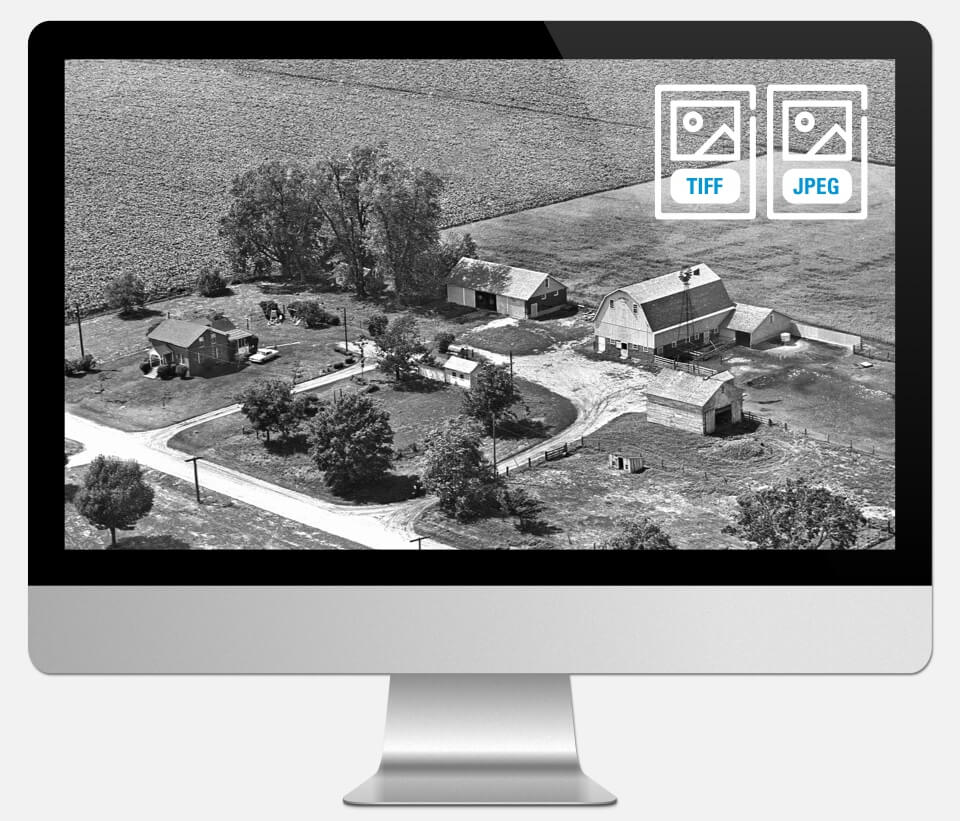 Professional Editing
After purchase, our high-resolution scans are professionally edited to bring out the natural beauty of each photo without disturbing its historical integrity: dust and scratches are removed, sharpening is applied, tonal curves are adjusted, and the image is rotated and cropped to fit perfectly.